MELISSA NUGENT
Christian • mother • wife • visual communicator • fitness fan • health nut
What can I say, I'm crazy about design. I found my calling and love every minute of every project. Design comes naturally to me and I truly believe I was meant to do this.
I received a BFA in Communication Design from the University of North Texas in 2000. I then spent five years as a graphic designer at a well respected agency in Dallas, TX. That experience helped me become more knowledgeable about how to design and market for many different industries. I now have over 20 years of Graphic Design experience. I work hard to help businesses succeed.
I am blessed to be married to Neil, an Aggie '94, and to be the mother of two sweet and beautiful girls.
"The caterpillar does all the work but the butterfly gets all the publicity"
~ George Carlin​​
I try to find time to paint in my spare time.
Over the years, I have experimented with different art mediums. I began using charcoal at a very young age to create portraits. Paint is my medium of choice these days. I also enjoy creating digital illustrations.
Traditional Art
Acrylic on 36" x 36" gallery wrapped canvas: trees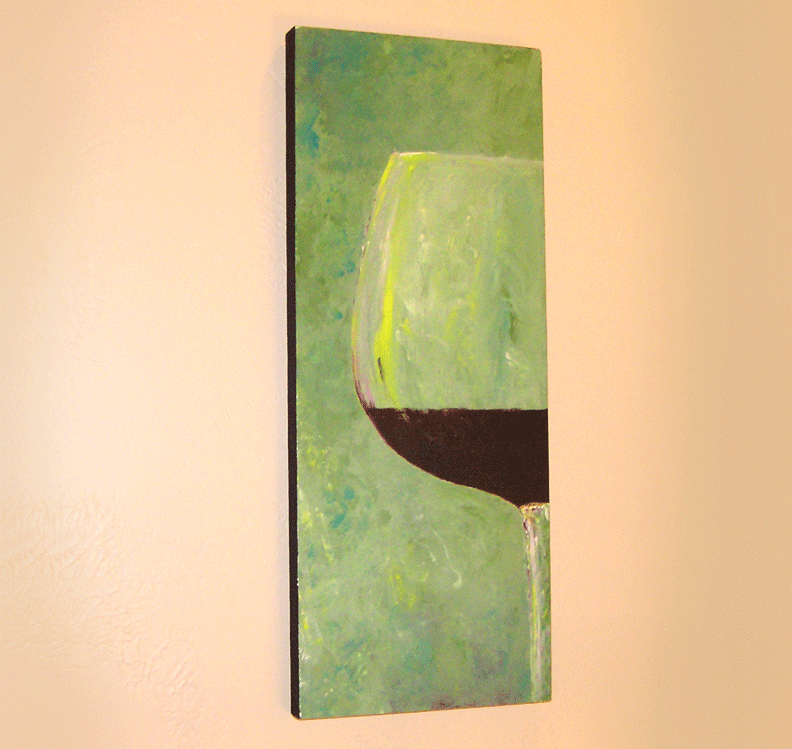 Traditional Art
Acrylic on 12" x 24" gallery wrapped canvas: wine glass
Traditional Art
Acrylic on 30" x 40" gallery wrapped canvas: tulip
Traditional Art
Acrylic on 30" x 40" gallery wrapped canvas: cala lily
Traditional Art
Acrylic on 12" x 12" gallery wrapped canvas: mountain
Abstract Art
Acrylic on 30" x 40" gallery wrapped canvas
Abstract Art
Acrylic on two 30" x 40" gallery wrapped canvases
Abstract Art
Acrylic on 60" x 48" gallery wrapped canvas
Tapestry Art
Acrylic on two 36" x 80" canvas wall hangings
Tapestry Art
Acrylic on two 18" x 50" canvas wall hangings
Tapestry Art
Acrylic on 36" x 36" canvas wall hanging
Art for Kids
Acrylic on 48" x 24" gallery wrapped canvas: playful horse
Art for Kids
Acrylic on three 30" x 40" gallery wrapped canvases: pink flower tryptic
Art for Kids
Acrylic on 30" x 36" board: castle
Art for Kids
Close Up: castle
Art for Kids
Acrylic on various sizes of poster board with faux fur accents integrated